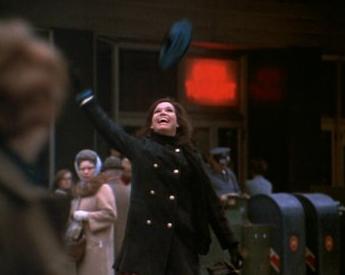 I would like to thank Mary Richards (played by Mary Tyler Moore) for being a feminist. Once you get past the cheesy theme song (and the famous "hat throw"), the show's
pilot
begins with Mary moving into a new apartment in Minneapolis. We then learn Mary had broken an engagement with her boyfriend of two years. Later in the episode she is hired as Associate Producer of the "
Six-O'clock News
" (
SPUNK!
) Quick summary: female television character is single, has job and most importantly, is happy.
The housewife, Laura (also played by Mary Tyler Moore, about ten years earlier)
that we see
on
Dick Van Dyke
is essentially who Betty Draper wanted to be: happy, graceful and loyal to her husband. The interesting part is, if Laura was a real person, she would there's a chance she would have been more like Betty Draper.
The character of Betty Draper is depressed and cranky, though she has every right to be. She is stuck at home doing dull chores, taking care of her kids, and then finishing her day attempting to look like she came straight out of Dial M for Murder...well, not exactly
the scary part
.
Which is why Mad Men is so fascinating. Much of the sixties is associated with glamorous Hollywood, and Mad Men seems to prove (by the example of Betty Draper) that regular women were socially required to do the work of a mother and housewife, all while looking and acting with the gracefulness Grace Kelly displays on screen.
Mad Men
is a twenty-first century historical fiction television show. It's been about "fifty years" (playing by the television setting) since Betty Draper had emotional breakdowns, and
shot pigeons
.
Mary Tyler Moore
began in 1970, a few years after the second wave of feminism had began. Even though feminism was real, the transition to fictional television was a bit slow.
There was another character on
Dick Van Dyke
, named Sally Rogers (played by Rose Marie). Alongside Robert Petrie, Sally Rodgers was a comedy writer for the Alan Brady Show (Yes,
Dick Van Dyke
is a
sitcom about a comedy-program writer). Though she made (and wrote!) jokes, the character was obviously written to be an unhappily single woman; suggesting that women can't be happy unless married.
I love
Mary Tyler Moore
, partly because it was funny, well written, well cast, and you will find some of the best characters ever on television (Lou, Rhoda, Georgette,...). Though what made
Mary Tyler Moore
so great is the confident, independent yet still humble character of Mary Richards, a strong, yet still feminine woman. At age thirty, I hope to display the same attitude in real life, that Mary Richards does on screen.